Christine et Xavier FERRY
Manoir de la Semoigne
Chemin de la Ferme
02130 Villers-Agron
France
Tél : +33 (0)3.23.71.60.67
Fax : +33 (0)3.23.69.36.54
Coordonnée GPS : N 49°09'38'' / E 3°41'58''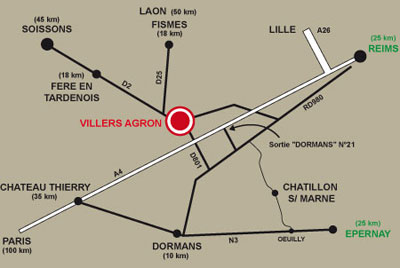 - Check-in between 3.00 pm and 6.30 pm or ask if you need a special arrangement. Saturday before noon.

- Check-out at 11.00 am. - To book a bedroom we ask for a mobile number, your CB details or a deposit of 50 €/night/room by bank transfer.

- Payment is by cash or by bank transfer. We accept payment by CB, only for a minimum stay of 6 nights.

- The price includes breakfast & taxes.

- To maintain a climate of conviviality - characteristic of the atmosphere of our guest rooms-, a minimum stay of 2 nights is required on weekends. Otherwise, 15€ will be add.


Booking rules :

1- toute réservation n'est confirmée qu'à la réception d'un acompte ou de références de carte bancaire compléte ( nom, prénom, numero de carte, date de validité et code de sécurité),
2 - le propriétaire de Chambres d'Hôtes s'engage à fournir l'hébergement retenu
3 - en cas d'annulation à J-15 aucun acompte n'est retenu
4 - en cas d'annulation entre J-15 et J-8 50% de la somme est due ,
5 - en cas d'annulation à moins de J-8 la totalité de la somme est à régler.